Hope Air announces the appointment of Stephanie Aldridge as Executive Director, British Columbia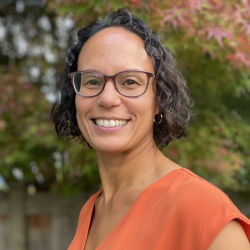 October 12, 2023 – Hope Air is pleased to announce the appointment of Stephanie Aldridge as Executive Director, British Columbia.
In this role, Stephanie will lead all Hope Air programs and partnerships within British Columbia. This includes expanding Hope Air's impact for patients in need, who must travel long distances to reach medical care.
Her portfolio of responsibilities includes the deepening of Hope Air stakeholder relationships. This includes collaboration and engagement with Hospitals, health authorities, government, social workers, patient advocates, volunteers, program delivery partners such as airlines and airports, and others. Building on the dedication and commitment of our Hope Air team and community, Stephanie will provide innovative leadership, ensuring ongoing growth and impact for Hope Air's work.
Prior to joining Hope Air, Stephanie served as the Executive Director for the Capilano Community Services Society, a social services organization serving communities on the North Shore of Vancouver. Stephanie has also served in various executive roles with BC Cancer, including leadership in the development of BC Cancer's new strategic plan for the delivery of cancer services in British Columbia. Stephanie has also worked as a Radiation Therapist and Practice Leader.
Stephanie holds a Masters of Education degree from Simon Fraser University and multiple certifications in project and change management.
"We are delighted to welcome Stephanie to the Hope Air team," said Mark Rubinstein, Chief Hope Officer. "Her vast experience in health care and social service agencies in British Columbia, aligns perfectly with the mission of Hope Air. We are confident that Stephanie will contribute significantly to our growth and impact in British Columbia."
"I am excited to be joining the passionate team at Hope Air and grateful for the opportunity to help individuals and families, living in remote and rural communities, gain access to essential medical care." said Stephanie Aldridge.